STIHL Chainsaw Buyer's Guide
Finding the right saw for your needs doesn't have to be a guessing game. This buyer's guide is designed to help you better understand which STIHL chainsaws have the power and features you need for your task.
If you have specific questions about a chainsaw, such as which size guide bar to buy, or a direct comparison of performance between two or more models of chainsaws, visit our Dealership for more information. We'll be happy to answer questions and provide live demonstrations in order to find the right saw for you.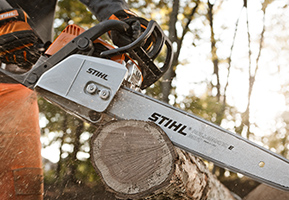 HOME USE
STIHL chainsaws for the home combine reliable performance with great value. Like all STIHL chainsaws, they feature German engineering and advanced technology. STIHL Quickstop® chain brake system stops the chain in a fraction of a second and can be activated by inertia in the event of kickback. STIHL chainsaws also feature anti-vibration technology for enhanced comfort and much more.
GREAT FOR:
Occasional Use (extended durations, several times a month)
Smaller lots with fewer trees
Light pruning, firewood cutting and storm cleanup

---
FARM / RANCH USE
When you need a chainsaw that works for a living, choose STIHL "Farm & Ranch" saws. STIHL offers a variety of high-performance chainsaws that are engineered for service, day in and day out. The chainsaws in this category are ideal for a variety of uses, such as firewood cutting and storm cleanup. One thing you can be sure of – they have what it takes to get the job done.
GREAT FOR:
Frequent use (several times a month or more)
Larger lots with many trees
Heavy firewood cutting and storm cleanup

---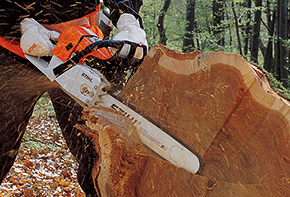 PROFESSIONAL USE
When it comes to logging, farming, land clearing, tree service and big firewood cutting jobs, professionals trust STIHL. Our pro chainsaws have the reliability, power and features needed for the toughest jobs in the industry.
GREAT FOR:
Heavy use (every day)
Larger lots with dense tree coverage
Pruning, firewood cutting and large scale storm cleanup

---
BATTERY AND ELECTRIC CHAINSAWS
Save on fuel and maintenance costs with a STIHL Battery or Electric chainsaw! Each offers an impressive balance of performance and efficiency without any exhaust emissions.
GREAT FOR:
Any usage (monthly, weekly or daily)
Areas with noise restrictions
Light pruning, firewood cutting and storm cleanup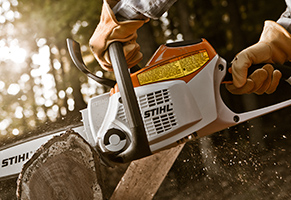 ---

CHAINSAW FEATURES
When you see STIHL Chainsaws with letters in the model number, they indicate specific performance features. Here is a quick guide to those features, so you can better identify the features that better complement your needs.
E = Easy2Start™
The innovative STIHL Easy2Start™ (E) makes starting STIHL power tools easy and straight forward, without requiring a lot of effort. The secret is an additional spring between the crankshaft and the starter rope rotor.
B = Quick Chain Adjuster
The Quick Chain Adjuster (QCA) (B) allows the user to adjust the tension of the chain without the use of tools. This allows for easy chain adjustment.
Q = STIHL Quickstop® Plus
STIHL Quickstop® Plus braking feature (Q) is designed to engage when the operator's right hand completely releases the rear handle, stopping the chain within one second. It works in any operating position – without requiring additional levers or handles.
R = Wrap Handle
Saw can be used in multiple positions for felling or limbing with hands in the proper positions.
T = Top Handle (Arborist Use Only)
Top-handle models are specially designed for in-tree professional use only!